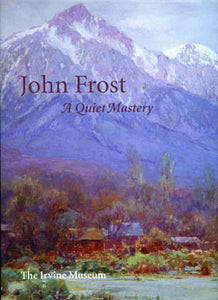 The impressionist landscape painter John Frost (1890-1937) was born into a family of artists, headed by his father, Arthur B. Frost, Sr., one of America's premier illustrators. After moving with his family to Paris and, later, Giverny to study painting, Frost contracted tuberculosis and spent several years recuperating in a sanatorium. In 1916, he traveled to the West, seeking adventure and a respite from his longtime battle with illness. While applying his classical art training to the dramatic vistas of California's and Arizona's deserts, he discerned how to capture their elusive colors and desolate splendor.

John Frost: A Quiet Mastery, Phil Kovinick's definitive study of the artist, is the result of more than a decade of rigorous research. The volume's beautifully reproduced paintings reveal a master of California Impressionism who garnered attention for his evocative, poetic landscapes of the Golden State. Phil Kovinick is an independent writer, researcher, lecturer, and consultant. He is the co-author, with Marion Yoshiki-Kovinick, of An Encyclopedia of Women Artists of the America West, which received the 1998 Western Heritage Award for Outstanding Art Book. With Janet Blake, he is the co-author of The Art and Life of Edwin Roscoe Shrader. He also co-curated the exhibitions The Woman Artist in the American West, 1860-1960; Canyons, Arroyos, and Oases: Desert Landscapes in Southern California, 1900-1985; and Researching the Summit: Mountain Landscapes in Southern California, 1900-1986.

The book features a forward by The Irvine Museum's President James Irvine Swinden, and an essay by the Museum's Executive Director Jean Stern. It is available in soft and hard cover, is 240 pages, and features 300 color illustrations.